Introduction
Within this short article, we will answer the question: What is a FlexibleLOM?
First of all, What is a LOM?
LOM
LOM (LAN on motherboard) refers to a chip or chipset capable of network connections that have been embedded directly on the motherboard of a desktop, workstation or server. Instead of requiring a separate network interface card to access a local-area network, such as Ethernet, the circuits are attached to the motherboard. An advantage of a LOM system is an extra available PCI slot that is not being used by the network adapter.[1]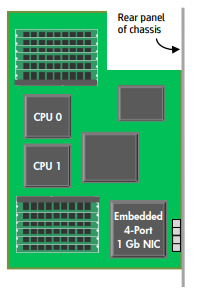 Figure 1 - LOM.[2]
FlexibleLOM
One of the downsides to LOM, i.e an integrated NIC upon the system board, is that if a user required a different kind of networking adapter, they would need to purchase a PCI adapter and install it in a slot in the server. However, this consumed mezzanine or PCI slots which reduced the flexibility to add additional cards.
HPE's FlexibleLOM uses a system board edge connector that accepts a FlexibleLOM adapter. Therefore providing you with the ability to customize the servers network adapters based on the various adapter models (aka flavours) available by HPE.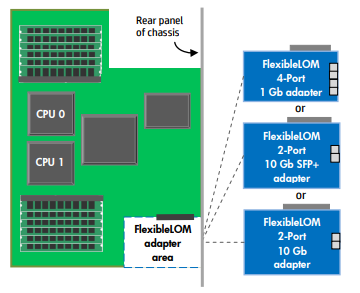 Figure 2 - FlexibleLOM[3]
There are 2 main types of FlexibleLOM - FLB and FLR:
FLB (FlexibleLOM Blade) - The FLB adapter installs as a daughter card on the server blade board.[4]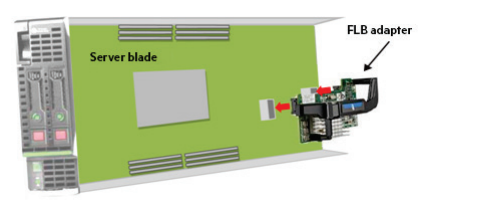 Figure 3- FLB.[5]
FLR (FlexibleLOM Rack) - The FLR adapter for rack mount servers connects to the system board. As with traditional LOM implementations, HPE FLR adapter's network connectors are accessible through the rear panel of the server chassis.[6]


Figure 4- FLR.[7]
References
---
---